Оберіть підрозділ: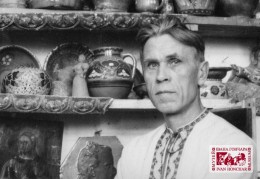 Ivan Makarovych Honchar (January 27, 1911 – June 18, 1993) – renowned community and cultural activist, talented sculptor, painter, graphic artist, and self-taught ethnographer and collector of Ukrainian folk art and culture. Founder of his own private museum for his collections. Member of various Ukrainian artists associations. Recipient of numerous national medals and awards, including Ukraine's most prestigious Taras Shevchenko National Award.
Father of Petro Honchar (wife, Nina Matviyenko), grandfather of Ivan, Andriy and Antonina (Tonia) Honchar.
Already as a youth in the flames of wartime vandalism, Ivan Honchar promised himself that if he survived, he would devote the remainder of his life to the protection and propagation of the cultural heritage of his nation. After the WWII he began actively collecting cultural artifacts in the early fifties, and soon his house became a private "clandestine" museum. Inspired by his devotion to Ukrainian culture, he ignored both the official pressure of ideological precepts and suspicions of the KGB, in order to amass a collection of art objects which otherwise would have been irretrievably lost. Honchar's home became a veritable monument to the distinctive Ukrainian production of fine and decorative art.
Ivan Honchar angrily called the "imprisonment" of priceless treasures of Ukrainian culture of the past in museum vaults, not on display, an "idiotic, retrograde, and criminal practice against the people," believing that "not to show the actual material cultural heritage of our nation means the eradication of its pride, national identity, the right to self-awareness, and the breaking of its wings to prevent flight forward." For over three decades, from the end of the 1950s, under vicious conditions of harassment by the totalitarian regime, he proceeded with his titanic task. All his work was aimed, first of all, towards the complex research, reconstruction, and popularization of Ukrainian cultural traditions of the past. The result was his collection of the pearls of Ukrainian antiquity, with his home-studio transformed into a unique Noah's Ark of Ukrainian culture.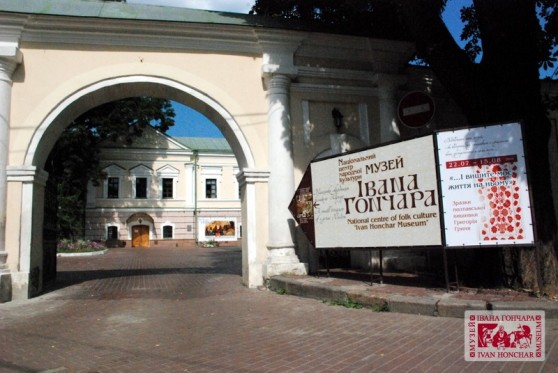 The state-run Ivan Honchar Museum was established in Kyiv in 1993, but only after the death of its founder. In its six years the museum has become an important institution – a Ukrainian Center of Folk Culture. In 2009 the institution was granted the title 'national'. Its goals follow the guidelines of its unforgettable founder: the heritage of Ukrainian culture, reflected fully, must be available to society, and it must be sought out, researched, and developed in all aspects of the life of the nation. It's mission is to be the foremost institution for exploration, preservation, interpreting and presenting traditional cultural values and cultural diversity of Ukrainian people. The Museum strives to strengthen the cultural roots of Ukrainian society, cultivate traditional cultural priorities, inspire artistic creativity, provide continuing enrichment and succession of cultural heritage traditions, promote international understanding and global cooperation between peoples and nations, perform the greatest possible public service through exhibitions, research, cultural, artistic, training and education programs to local residents and communities, students, scholars, artists, tourists and to the broadest possible multicultural audience.
Today, the museum collections hold close to 30,000 artifacts of folk art, material culture, and rare books. The Center is providing permanent expeditions collecting unique cultural material. It was an active participant in annual field expeditions to the Chernobyl area. Annually the Center provides a number of research and educational programs, family friendly activities, art exhibitions, festivals and competitions, as well as international seminars and national conferences, round-table discussions, master-classes in arts and crafts, art fairs and shows. It also provides administrative and methodical assistance to individual students, researchers, artists and craftsmen as well as to the cultural and educational institutions in all regions of Ukraine.
The Ivan Honchar Museum becomes one of the key centers of the formation of national identity awareness, the development of a mutual personal and spiritual sterling nation – what the Museum's unforgettable founder envisioned: "May all that you see in this museum awaken in you a passionate most sincere love of the poetic soul of Mother Ukraine, and may this love become a mighty stimulus to her beautiful future and lush blossoming."
In 2011 the Center celebrates the centennial anniversary of Ivan Honchar's birthday and is looking for donations and support of its programs.
Location: 19 Lavrska Street, Kyiv, 01015, Ukraine
Nearest Metro station is Arsenal'na, then transfer to bus #24 or trolleybus #38 to the final stop at Museum of World War II (direction to the Pechers'ka Lavra)
Hours: 10 a.m. to 5.30 p.m. every day except Monday and last day of a month
Information: Tеl./fax: (+380 44) 288-9268, 288-54-19
E-mail: honchar_museum@ukr.net
www.honchar.org.ua